Urfi Javed on Tuesday (January 3) slammed BJP leader Chitra Wagh for filing a police complaint against her for 'indulging in 'nudity publicly on the streets of Mumbai' and demanded that Urfi be 'arrested'.
Urfi informed her followers about this on Instagram and reacting to a report about the same, she wrote, "She is the same lady who was shouting for SANJAY RATHOD'S arrest when she was in NCP, then her husband was caught taking a bribe. To save her husband, she joined BJP and uske baad Sanjay or Chitra kaafi acche dost ban gaye. Mai bhi bas BJP join karne wali hun. Then we will be best of friends."
In another post, the actress shared she knows it's 'dangerous' to speak against politicians but then such complaints are making her 'feel suicidal'. And she was not the one to have started all this.

She wrote, "I know it's quite dangerous uploading stuff against politicians but then these people are making me suicidal anyway so either I kill myself or say my mind and get killed by them 🙂 But again hi I didn't start this, I never did anything wrong to anyone. They are coming at me for no fu**ing reason."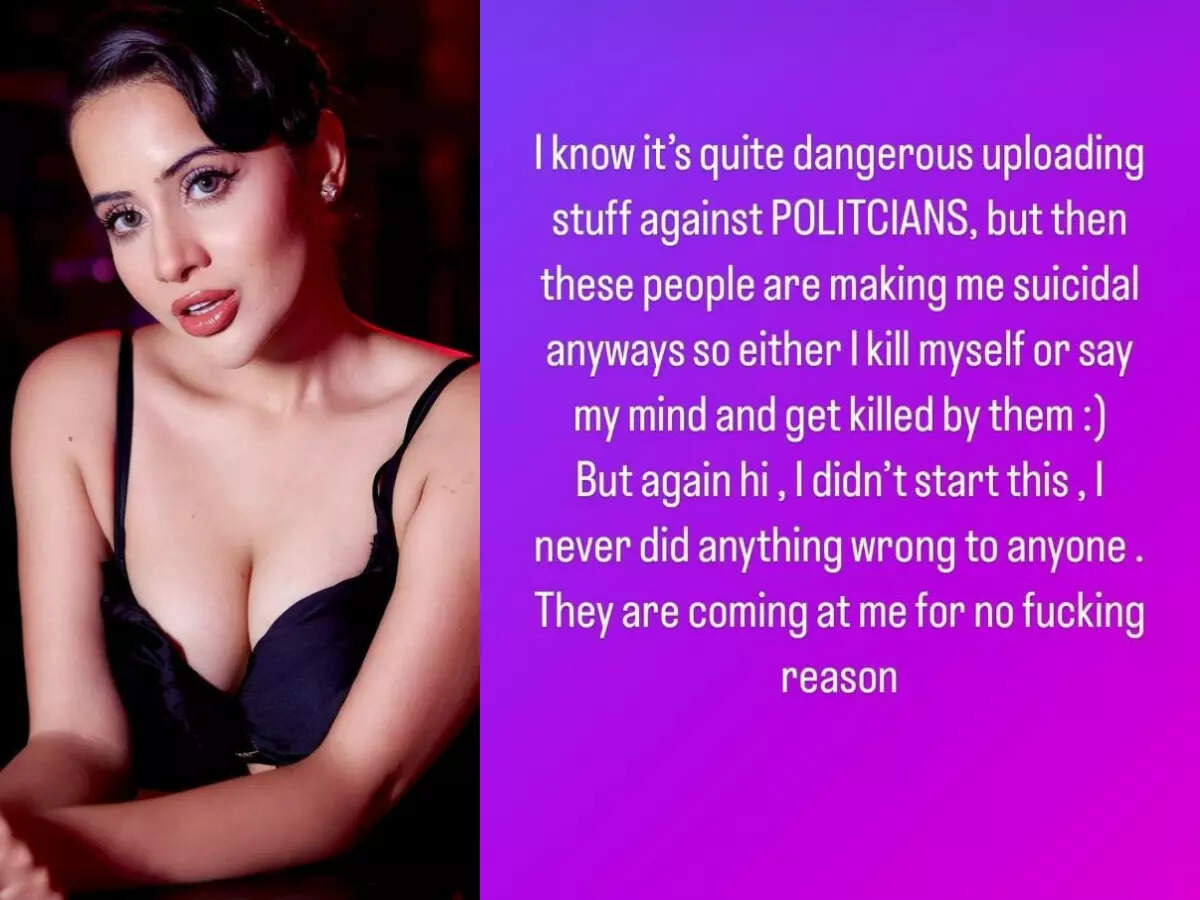 Chitra Wagh had earlier tweeted, "What's happening in Mumbai? Does the Mumbai Police have any IPC/CRPC sections to stop this woman who is openly indulging in nudity on the streets of Mumbai? Arrest her as soon as possible."
She added, "On one hand, innocent girls/women are falling prey to perverts, and on the other hand, this woman is only spreading more perversion."

शी…ऽऽऽऽअरे..हे काय चाललयं मुंबईतरस्त्यांवर सार्वजनिक ठीकाणी उत्तानपणे नंगटपणा करणारी ही बाई हिला रोखायला… https://t.co/Zs6x2E2vG6

— Chitra Kishor Wagh (@ChitraKWagh) 1672421320000
Meanwhile, Urfi continues to upload videos sporting unusual outfits on her social media account. The latest one sees her in a mesh dress. It has again taken the internet by storm. Take a look.
Urfi rose to fame after Bigg Boss OTT. Her bizarre outfits caught the attention of netizens and she has now become quite a social media sensation. The actress is currently seen in Splitsvilla 14.