NEW DELHI: The medical board formed by the Delhi government has prima facie ruled out any sexual assault on the 20-year-old woman, Anjali, who died in the horrific accident at Kanjhawala last week, putting an end to the allegations of the woman having been "raped and murdered".
The three-member board had conducted an autopsy at Maulana Azad Medical College on Monday and has said in a provisional opinion that the death happened due to multiple injuries on her body which was dragged over a long distance, corroborating the findings of the police investigation that the death happened in the aftermath of an accident between the Baleno car and the victim's scooty.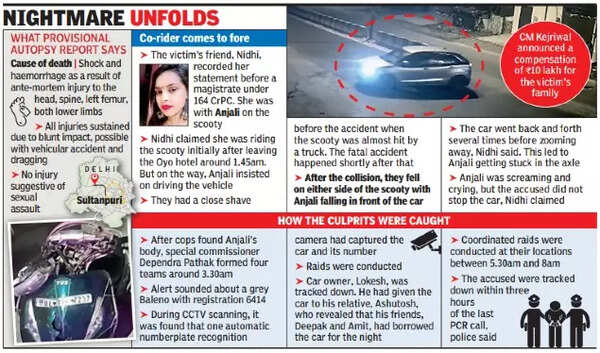 'Injuries consistent with those in road crash'
Ruling out sexual assault, the provisional autopsy report of the woman who died in a gruesome road accident in Kanjhawala last week states that her injuries were consistent with those in a road crash, police said.
"The provisional cause of death has been conveyed to us as shock and haemorrhage as a result of antemortem injuries on the head, spine, left femur and both lower limbs. All injuries were produced by blunt force impact which is possible with vehicular accident and dragging. No injury is suggestive of sexual assault," said Sagar Preet Hooda, special commissioner, law and order.
The medical team reportedly noticed multiple fractures and found the rear side of the body completely scraped, suggestive of prolonged dragging, officials said.
The woman, whose body was discovered without clothes, had got stuck in the wheels on the co-driver's side, police had said earlier. The cops had said that she was stuck in a way that her legs were entangled with the tyre on the rear side and her face was towards the wheel below the seat next to the driver. The back was in a pitiable state and her ribs were visible, the police said adding that she had wounds on her forehead, hands and legs.
A detailed and final postmortem report, cops said, will be given by the board in one to two weeks. Once that is received, the cops will file a chargesheet at the earliest, a senior officer added. The victim's family has reportedly told the cops that they are satisfied with the postmortem report after which her body was handed over to the family for the last rites. The police made arrangements for the cremation.
LG Vinai Kumar Saxena has asked police commissioner Sanjay Arora to ensure all assistance to the family and conduct a speedy probe. He has also asked officials to ascertain if any member of her family can be provided with a government job.