Kolkata/Mumbai : Public sector banks-owned National Asset Reconstruction Company (NARCL) has emerged as the highest bidder for the twin SREI companies. According to sources, the bad bank has bid Rs 5,555 crore for the two companies — Srei Infrastructure Finance (SIFL) & Srei Equipment Finance (SEFL).
Authum Infrastructure is the second highest bidder with its offer of Rs 5,526 crore. The third bidder, comprising Varde Partners and Arena Investors, is understood to have stayed away. Although the auction was conducted on Tuesday, the results were known only on Wednesday as the process went late into the night.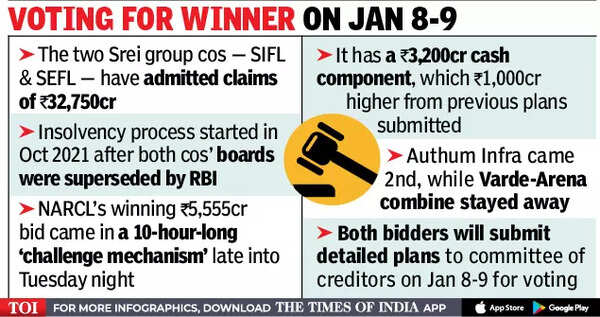 In terms of the Insolvency and Bankruptcy Code (IBC), the committee of creditors (CoC) will have to meet andevaluate all bids before voting on them. The lenders are also likely to seek an extension of the timelines under the IBC to complete the resolution.
SIFL and SEFL have been facing insolvency proceedings from October 2021 after the RBI superseded the boards of the companies. The administrator has admitted claims amounting to Rs 32,750 crore.
Among the financial creditors, Canara Bank, StateBank of India and Punjab National Bank have large exposures to the Srei twins. Other lenders are Punjab & Sind Bank, Axis Bank, HDFC Bank, Union Bank of India, IDBI Bank, UCO Bank and Indian Overseas Bank.
NARCL's net present value bid, submitted in the 10-hour-long "challenge mechanism" conducted by the CoC on Tuesday, constitutes Rs 3,200 crore in cash, a Rs 1,000-crore jump from theprevious plans offered.
In the challenge mechanism process, two parameters —an upfront cash component and the net present value (NAV) of the committed amount under the financial proposals — are the key factors. "There is Rs 2,200 crore in cash on Srei's balance sheet. The successful bidder has to infuse Rs 1,000 crore in cash to take over the Srei assets. Apart from cash, a short-term recovery worth Rs 3,450 crore is expected in two-three years, while optionally convertible bonds worth Rs 8,000 crore will be issued by the successful bidder for a period of up to seven years," a source aware of the development said.
"In the worst case, recovery for the lenders from the Srei resolution process is expected to be Rs 9,500-10,000 crore, out of around Rs 32,000 crore exposure," the source said.