NEW DELHI: In what could be a big step towards achieving India's updated climate action goals, the government on Wednesday approved the National Green Hydrogen Mission with initial financial outlay of Rs 19,744 crore. It will help India in not only reducing its carbon footprint but also saving a substantial amount of foreign exchange on import of fossil fuels in due course.
The mission that aims to make India a global hub for production, utilisation and export of green hydrogen and its derivatives will, in fact, eventually help the country become energy independent while taking a big leap towards decarbonisation of major sectors of the economy as part of its long-term goal of carbon neutrality by 2070. Union cabinet approves National Green Hydrogen Mission
Unlike grey hydrogen which uses natural gas, green hydrogen is produced by the electrolysis of water using renewable energy and thus doesn't emit carbon dioxide into the atmosphere. It is expected that the mission would help India in abating nearly 50 million metric tonnes of annual greenhouse gas (GHG) emission by 2030 in sync with India's updated climate action pledge under the Paris Agreement to reduce emissions intensity (emission per unit of its GDP) by 45% by 2030 from 2005 level.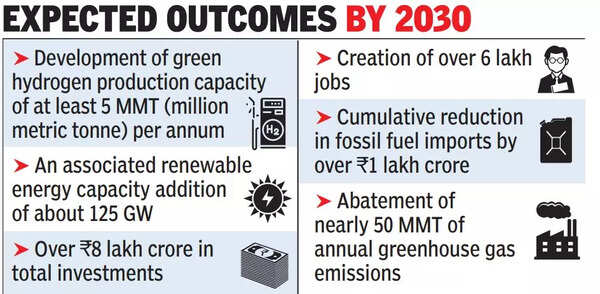 The ministry of new and renewable energy (MNRE) will formulate the guidelines for implementation of the different components of the Mission, approved by the Cabinet in its meeting chaired by PM Narendra Modi. The move comes a day after Modi spoke about the importance and necessity of the mission for meeting India's growing energy needs. Addressing a gathering of scientists at 108th Indian Science Congress, being held in Nagpur, through video-conference, the Prime Minister on Tuesday said it was necessary that various essential components like electrolysers should be made in the country itself to make the Mission successful.
The components of the mission include an outlay of Rs 17,490 crore for the Strategic Interventions for Green Hydrogen Transition Programme (SIGHT), Rs 1,466 crore for pilot projects, Rs 400 crore for R&D, and Rs 388 crore towards other related initiatives. The allocation is expected to attract huge investments and encourage R&D, focussed on electrolysers, in the next few years.
"The mission will have wide ranging benefits such as creation of export opportunities for green Hydrogen and its derivatives; decarbonisation of industrial, mobility and energy sectors; reduction in dependence on imported fossil fuels and feedstock; development of indigenous manufacturing capabilities; creation of employment opportunities; and development of cutting-edge technologies," said an official statement.
It is expected that the mission would help India in abating nearly 50 million metric tonnes of annual GHG emission by 2030.