Budhi Lal Joshiyal, 57, was sleeping at home in Joshimath's Chhawani Bazaar area a few nights ago when he heard a rattling sound for 10-15 seconds. Next morning, the retired Sashastra Seema Bal soldier woke up to find the old cracks on the road outside his house had widened by at least 1-2 inches. So had the cracks in the walls of nearby buildings.
While cracks started emerging in this Uttarakhand town more than two decades ago, its 25,000 residents are scared now because the cracks have been growing rapidly. On December 22, for instance, a stretch of the Helang-Joshimath highway – a lifeline for the region – caved in near Marwadi.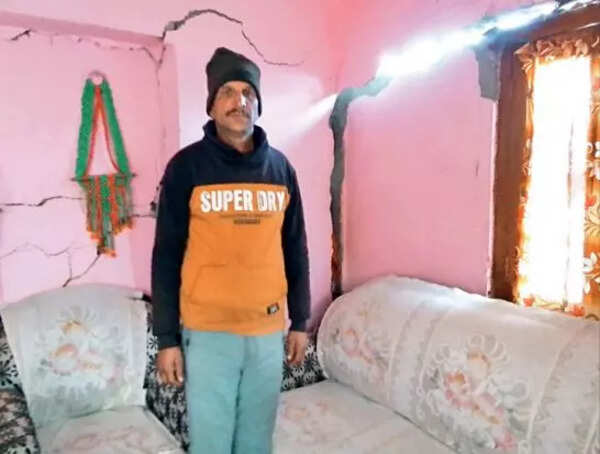 That Sinking Feeling
Joshimath sits at over 6,000 feet in Chamoli district, a part of the Garhwal Himalayas. It is widely regarded as a gateway to Badrinath and Hemkund Sahib, skiing destination Auli and Unesco World Heritage site Valley of Flowers.
Former Joshimath block president Thakur Singh Rana, 63, claims, "almost 500 houses have developed cracks in the past 24 months". Rana, who runs a hotel in the area, adds the problem has worsened since the October 2021 Raini disaster, with "cracks widening every day" now.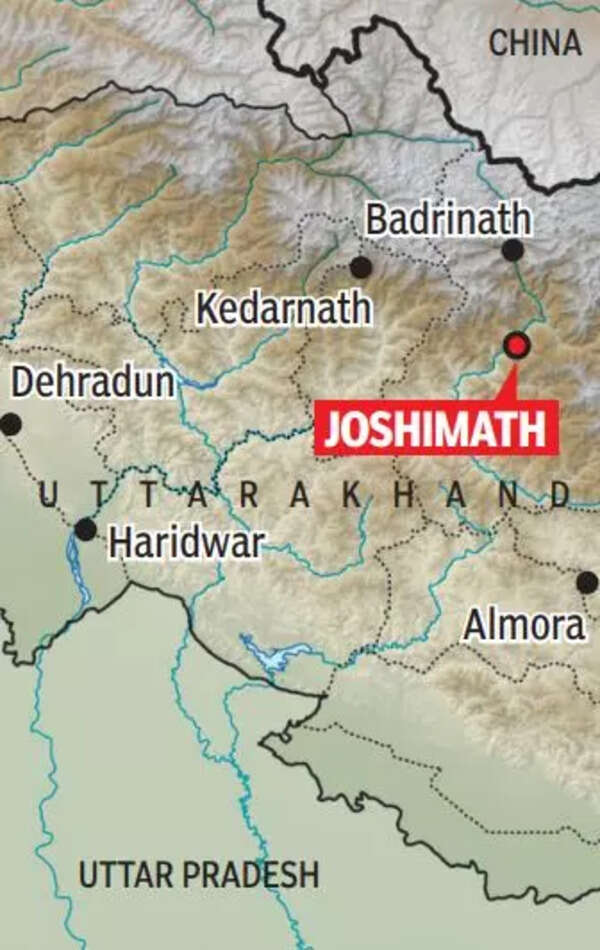 Durga Prashad Saklani, who lives in Sunil, one of the worst-affected villages, says despite the gravity of the situation, construction in and around Joshimath continues unabated. "I built my new house just 8-9 months ago. Now two of the rooms are unusable as the floors have caved in and the walls have developed large diagonal fissures."
Worried residents recently travelled down to state capital Dehradun to address a press conference and seek CM Pushkar Singh Dhami's urgent intervention. The CM said he has sought a report from the Chamoli district magistrate and will take 'swift action' thereafter.
Warnings Ignored
Some studies have already been done, though. As early as 1976 the Mishra committee had warned that, "For road repairs and other construction, it would be advisable not to remove boulders by digging or blasting the hillside. . . Trees in the area should be nurtured like children. "
More recently, in June 2021, an independent committee formed on the request of local residents surveyed the area and said, "further excavation works would sink Joshimath". The committee that included geologist Navin Juyal, who's a member of the Supreme Court-appointed panel to review the CharDham all-weather road project, also recommended an elaborate survey by multiinstitutional experts.
Uttarakhand State Disaster Management Authority eventually constituted a multi-institutional team for a geological and geotechnical survey of the town in August 2022. The team gave its report in September, pointing outJoshimath is "built on an unstable foundation – a thick cover of landslide material – which can give way in case of heavy rain, tremors, unregulated construction or more footfall".
Besides the weak natural foundation, it said, the many homes, resorts and small hotels that have mushroomed along the Joshimath-Auli road "without regard to the town's carrying capacity" are making the ground sink.
Hollow Ground
Many residents also blame Joshimath's troubles on the construction of a 12 km-long tunnel for National Thermal Power Corporation's (NTPC) Tapovan-Vishnugad 520 MW hydropower project. This project was hit by a flash flood in February 2021, killing over 200 people. The tunnel starts at the project's barrage in Tapovan, 15km away from Joshimath, and ends at its powerhouse in Selang, about 5km from the town.
Atul Sati, convener of Joshimath Bachao Sangharsh Samiti, says, on March 17, 2010, NTPC had admitted "the tunnel was witnessing water seepage from a punctured aquifer, leading to the drying of water sources in Joshimath".
Noted environmentalist Ravi Chopra told TOI the punctured aquifer inside the Joshimath mountain area would act like a leaking balloon. "Just as water will leak out of the balloon, causing it to gradually collapse, a similar phenomenon may have occurred inside the mountains in the area. "
While Chopra said, "The aquifer is now devoid of water and is unable to support the load above it," NTPC officials recently took local mediapersons to the tunnel and claimed it was dry, so Joshimath was not 'sinking' due to the project.
Ticking Bomb
That's no solace for Joshimath's residents who are now seeking "immediate rehabilitation" and looking for help to save their picturesque town. Chandravallabh Pandey, a 65-year-old resident, said, "Work on the all-weather road and hydropower plants continues unabated, further aggravating the already precarious situation. It is from sheer carelessness of all the governments that we are at risk now. Why did they even allow multi-storey buildings and so much construction despite being alerted decades ago?"
Panic after another aquifer bursts
Dehradun | About 25 panic-stricken families left their houses in Joshimath for safer locations after an aquifer at NTPC's Tapovan-Vishnugad 520MW hydropower project burst on Tuesday. The resultant discharge of murky water into the town stoked fears that the hillside where the town is situated was going to collapse. Another aquifer had burst in 2010, pouring water into Joshimath. On Wednesday, six families living behind Mt View Hotel, which has tilted precariously, took shelter at the municipality building while over a dozen others were evacuated from Gandhinagar. A State Disaster Management Authority team is expected to arrive on Thursday to take stock of the situation.