VADODARA: Twenty-two undertrials accused of killing 17 people from the minority community in Delol village of Panchmahal district in 2002 were acquitted due to lack of evidence by the additional sessions court in Halol Tuesday.
Eight of the 22 accused had died during the course of the 18-year trial.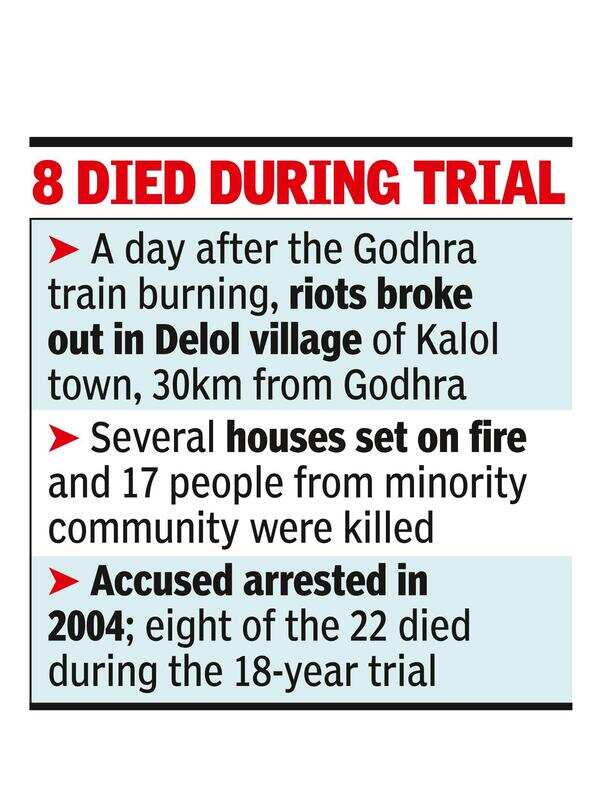 "The court examined all the evidence, including the bones reported to be of the victims, but it was inconclusive in forensic tests," said advocate Gopalsinh Solanki, who represented all the accused.
Re-investigation ordered in 2003 as police probe came under scanner
Also, over 100 witnesses were examined, many of whom turned hostile," said Solanki.
In 2002, communal riots broke out across the state after the Sabarmati train carnage in which 59 people were killed in Godhra. A day after the incident, on March 1, riots spread in Delol village of Kalol town, some 30km from Godhra. Several houses were set on fire during the rioting, in which 17 members of the minority community were charred to death.
Police investigations came under the scanner in the case, with one cop in Kalol being accused of not registering the FIR despite requests by victims and witnesses. A re-investigation was ordered and an FIR was filed in December 2003, more than 20 months after the incident.
The accused, who were absconding, were arrested in 2004. "The local court rejected their bail application, following which they approached the Gujarat high court which granted them bail in 2004. They have been on bail since then," Solanki said.