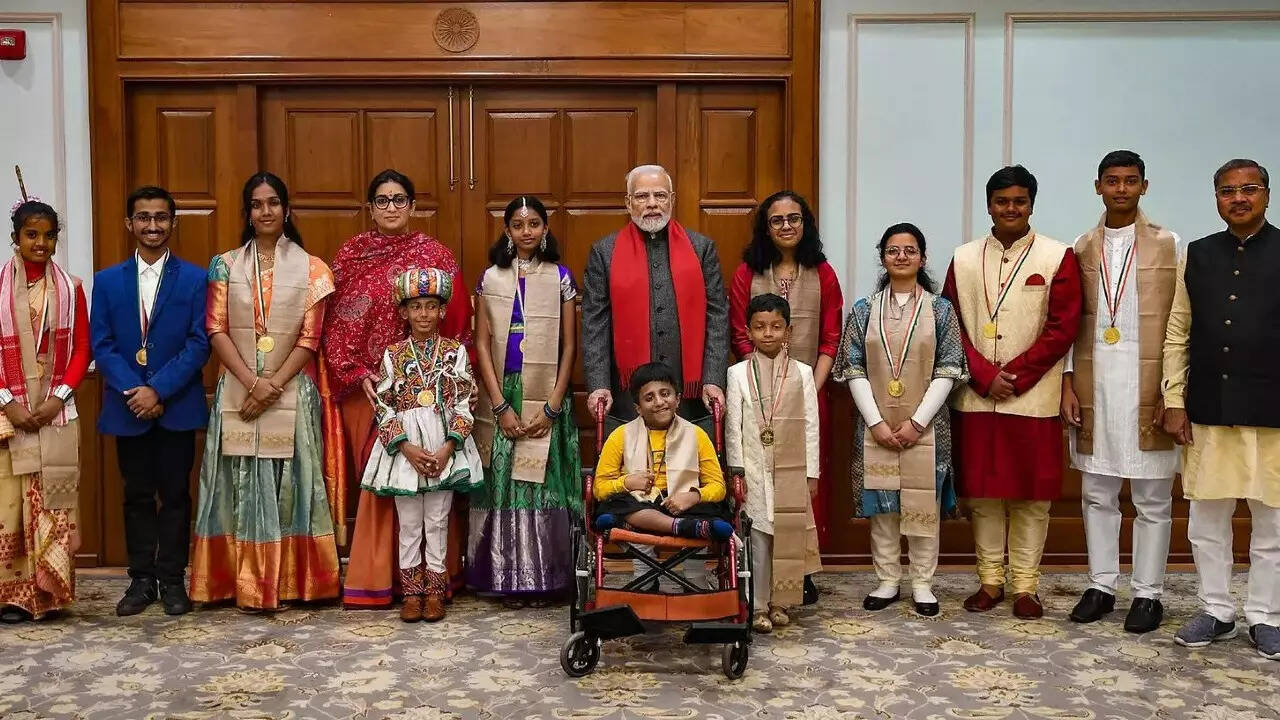 NEW DELHI: Prime Minister
Narendra Modi
during an interaction with the 11 recipients of the "Pradhan Mantri Rashtriya Bal Puraskar" discussed issues such as tackling stigma around
mental health
, the problems faced by children and the important role of the family in dealing with such matters.
Lauding the achievements of the children, Modi also suggested that the awardees should start by solving small problems, gradually build capacity, enhance capability and develop confidence to solve bigger problems as they go ahead in life. The PMO said in a statement that the wide-ranging interaction saw the PM and the children dwell on the benefits of playing chess, taking up art and culture as a career, research and innovation and spirituality among other subjects. The PM later tweeted that he "had an excellent interaction."
Dressed in traditional attires, the awardees, earlier in the day, shared their goals and aspirations during an interaction with women and child development minister Smriti Irani as they took a tour inside the the Pradhanmantri Sangrahalaya — a museum built as a tribute to all Prime Ministers of India since independence.
On Monday, President Droupadi Murmu had conferred the awards which include a medal, a citation and a cash prize of Rs 1 lakh to theawardees at a programme organised at Vigyan Bhawan. This year's awardees come from 11 states and UTs and include six boys and five girls. They include Aadithya Suresh, M Gauravi Reddy, Shreya Bhattacharjee, Sambhab Mishra (art and culture); Rohan Ramchandra Bahir (bravery); Aditya Pratap Singh Chauhan, Rishi Shiv Prasanna (Innovation); Anoushka Jolly (Social Service); Hanaya Nisar, Kolagatla Alana Meenakshi and Shauryajit Ranjitkumar Khaire (Sports).
In a series of tweets, the PM spoke of each of the awardees. For instance he appluaded the "remarkable resilience" of Aadithya Suresh. "He was diagnosed with a bone disorder but he is not one to have a low morale. He pursued singing and is now a talented singer. He has performed in over 500 programmes," the PM said.
"I am proud of Rohan Ramchandra Bahir, who jumped into a river and saved awoman. He displayed great bravery and fearlessness," the PM said. "Celebrating innovation among the youth! Rishi Shiv Prasanna is passionate about developing apps. He is equally interested in science as well as popularising it among the youth," the PM tweeted.
He lauded 14-year-old Anoushka Jolly, who is working on an app and online programmes to empower children to speak-up against bullying, for her "remarkable compassion and innovation. "