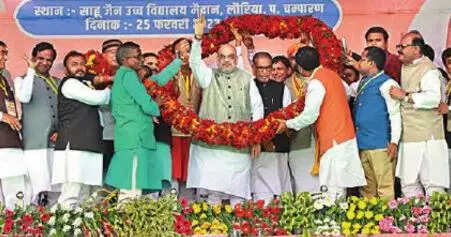 LAURIYA/ WEST CHAMPARAN: Union home minister Amit Shah declared on Saturday that BJP's doors are now permanently shut to Bihar chief minister
Nitish Kumar
, whose prime ministerial ambition has left his state ravaged.
Signalling the start of BJP's election preparations from a place where ruins from the Mauryan period have been found, Shah said, "Nitish aise vyakti hain jinko har teen saal me PM ka sapna aata hai (Nitish is the kind of politician who every three years dreams about becoming PM). " This was his third visit to the state since Nitish parted ways with BJP and formed the Grand Alliance government with RJD, Congress and the Left in August last year.
"But enough of aaya Ram, gaya Ram. Now the doors of BJP are closed to him forever," Shah said, adding Nitish had gone in the company of Lalu Prasad and Sonia Gandhi to keep his PM dream alive. He accused Nitish of becoming an "avsarwadi (opportunist)" from "vikaswadi" justbecause of his dream of becoming PM, but "2024 mein Modiji hi rahenge (Narendra Modi will remain PM after the 2024 Lok Sabha polls)".
He wondered how Nitish, after fighting his entire life against Congress and "jungle raj", has now gone with Sonia and Lalu; he termed their pact as "unholy". Shah described the relationship between Nitish and Lalu as that of "water and oil", which don't mix. He described Nitish's JD(U) as water and Lalu's RJD as oil, alleging the entire state is burning from the fire of the "lantern", the RJD poll symbol.
Shah alleged the law and order situation has touch edits nadir since Nitish joined hands with Lalu, and exhorted the masses to re-elect Modi as PM to "free Bihar from jungle raj".
The former BJP chief asked Nitish to fulfil his promise of handing over his throne to Lalu's son (Tejashwi Yadav), charging the former with not revealing the date of the power transfer.
Stating that Bihar can't grow under Nitish and Lalu, Shah said it is high time BJP forms government with a full majority. He said BJP had made Nitish CM despite it winning more seats than JD (U) and charged Nitishwith stalling the Centre's development projects.