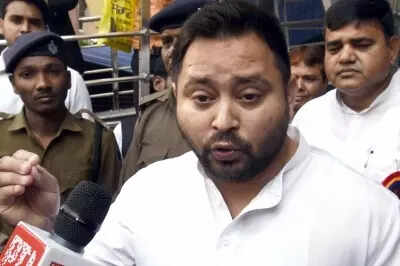 PATNA (Bihar): Hours after the CBI team reached his mother Rabri Devi's residence, Bihar Deputy CM
Tejashwi Yadav
attacked the centre stating that he had anticipated this, when the 'Mahagathbandhan' government was being formed in Bihar.
Talking to the media, Tejashwi Yadav said, "The day trust vote was ongoing, and our Mahagathbandhan government was formed, I said then only that these things will keep on happening."
"There is a hearing on March 15, which is a normal procedure for bail," he added.
Attacking the
BJP
further, he alleged that if a leader with corruption charges joins BJP, the cases against him are withdrawn.
"If you stay with BJP, you will be Raja Harishchandra. In Maharashtra when Sharad Pawar's nephew (Ajit Pawar) went to BJP, all cases were withdrawn. When TMC's Mukul Roy when to BJP, all cases were withdrawn. Whenever you show the mirror to BJP, this will happen," Tejashwi Yadav said.
Earlier in the day, a CBI team reached the residence of former Bihar Chief Minister Rabri Devi in Patna in connection with the land-for-job case.
The CBI in a statement said that Rabri Devi had herself decided March 6 (today) as the date of hearing.
"A few days ago CBI summoned former Bihar CM Rabri Devi and she herself decided Monday, March 6 as the date of questioning at her residence. It's not that CBI barged in," a CBI official told ANI.
Condemning the visit of the CBI team at
Rabri Devi
's residence, Kejriwal said, "This is wrong, raids like these are humiliating."
On being asked about can this be seen in connection with the letter written by the Opposition leaders to Prime Minister Narendra Modi, the Delhi Chief Minister said, "It can be seen like that also. It is becoming a trend, that wherever there are Opposition governments, they won't be allowed to function. They (BJP) use ED, CBI and Governor to trouble them. Democracy will go ahead only when everyone will work together, whoever has a government should be allowed to work there."
Senior advocate Kapil Sibal also reacted to the incident and pointed out the 'fragile health' of Lalu Prasad.
"CBI heat on Lalu. We all know the fragile state of his health. To pressurise Tejasvi. The more the government does this more the people will turn against this government," Sibal tweeted.
Earlier on October 7 last year, the CBI filed a chargesheet against former Bihar chief ministers Lalu Prasad, Rabri Devi, their daughter Misa Bharti and 13 others in the alleged land-for-job scam.
Back in August last year, Nitish Kumar ended his alliance with the Bharatiya Janata Party-led (BJP) National Democratic Alliance, and joined hands with Tejashwi Yadav under 'Mahagathbandhan' (Grand Alliance) becoming the chief minister of Bihar for the eight time.
JD-U and BJP had fought the 2020 assembly polls together and Nitish Kumar was made the chief minister of the alliance though the BJP had won more seats. Nitish Kumar's ties with BJP stretched over two decades and he was a minister in the Atal Bihari Vajpayee government in 1996.