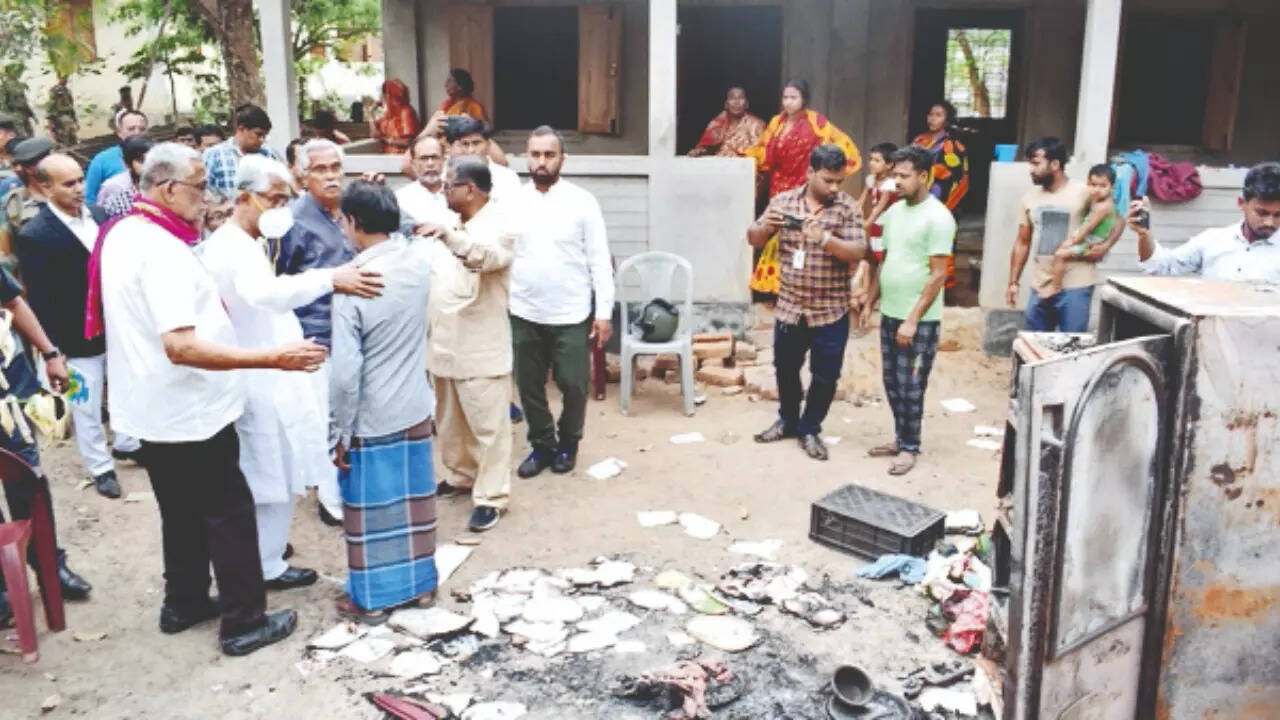 NEW DELHI: Three people were arrested on Saturday in connection with the attack on INC-Left front delegation in Tripura's Sepahijala district.
The delegation, comprising Left and Congress MPs, was attacked by a mob in Nehalchandranagar on Friday when it was visiting areas affected by post-poll violence.
The police escort team responded quickly and members of the delegation were safely rescued.
"Steps are being taken to apprehend the others involved in the attack. An FIR has been filed in connection with the incident," a senior police officer said.
Additionally, security forces have been deployed in the area. Meanwhile, the forces are also monitoring the situation on ground.
Kerala CM
condemns attack
Kerala Chief Minister Pinarayi Vijayan condemned the attack on the fact-finding teams of opposition MPs and MLAs in Tripura and alleged that "sangh parivar goons" were behind the "heinous" act.
In a tweet last night, he said the incident highlights the need for law and order situation to be restored in the north-eastern state.
The heinous attack by Sangh Parivar goons on the fact-finding team of opposition MPs visiting Tripura is highly con… https://t.co/0MJUkm1p4B

— Pinarayi Vijayan (@pinarayivijayan) 1678467109000
He further urged democratic forces to unite to defeat this reign of terror in Tripura.
Police mute spectator: Congress
Accusing the police of being a mute spectator, Congress general secretary and Rajya Sabha MP KC Venugopal on Friday strongly condemned the attack.
"Strongly condemn the attack on the INC-Left front delegation visiting violence-hit areas of Tripura, with the police being a mute spectator. We will never be intimidated by the BJP goons, and will stand up against their undemocratic & cowardly behaviour at every instance," Venugopal tweeted.
Strongly condemn the attack on the INC-Left front delegation visiting violence-hit areas of Tripura, with the polic… https://t.co/DNQipNF6p4

— K C Venugopal (@kcvenugopalmp) 1678469129000
He also shared the purported video of the attack along with the tweet.
Congress has alleged that during their visit, BJP workers attacked the Congress and Left Front MPs. They added that sloganeering was reported and their vehicles were vandalised by some miscreants.
BJP won majority
BJP returned to power in the state by winning an absolute majority.
According to the Election Commission of India, the saffron party won 32 seats with a vote share of around 39 per cent. Tipra Motha Party came second by winning 13 seats.
Communist Party of India (Marxist) got 11 seats while Congress bagged just three seats.
(With inputs from agencies)