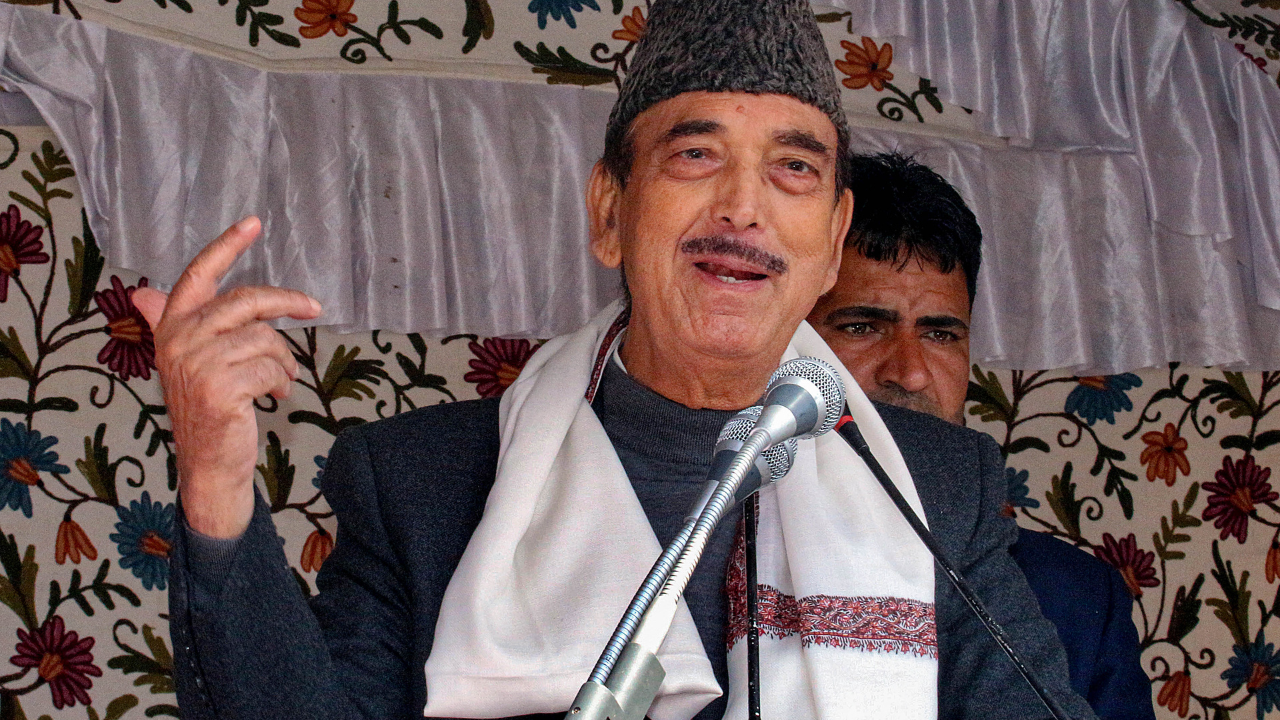 SRINAGAR: The Democratic Progress Azad Party (DPAP) will bring a law to protect land and job rights of the people of
Jammu and Kashmir
if voted to power, its chairman
Ghulam Nabi Azad
said on Wednesday.
The former J&K chief minister, who was addressing a public rally in the Zaloora area of Sopore in north Kashmir's Baramulla district, said the aim of his party is the restoration of statehood to
Jammu
and Kashmir.
"It is the basic fight. Otherwise, they will keep threatening us, taking away our lands, bulldozing our houses. So, it is very important to have our own government, chief minister, ministers and MLAs," Azad said.
He said if his party is elected to power, it would also enact a law in the assembly to provide land and job rights to the people of Jammu and Kashmir.
"Article 35-A was taken away. There were two main rights for the people of J&K under that…We have to restore land and job rights. But, that can be done only through an assembly, by passing a law in the assembly so that outsiders cannot get employment or land here," he said.
"My party aims to get rid of poverty and unemployment by providing employment opportunities to the youth," Azad said.
He said he and his party colleagues do not fear anyone and will rid Jammu and
Kashmir
"of the currently prevalent system".
"We do not fear anyone, we do not fear any raids, we are not afraid of being jailed. We have not done anything in our life to fear either the central government or the state government," Azad added.
Asserting his party will never cheat the people of Jammu and Kashmir with deceit and lies, the DPAP chairman said he will work day and night to ensure every person of the Union Territory (UT) reaps the dividends of peace and development.
"I won't cheat my own people with deceit and lies like successive regimes did in the past. My priority is to restore security of people, and ensure overall development takes place and the whole UT is progressing socio-economically," he said.
Speaking to reporters, Azad welcomed the government's decision to defer examinations for recruitment to various jobs which was to be conducted by the Jammu and Kashmir Services Selection Board.
The examinations were deferred in view of the widespread protests by job aspirants and many political parties against the hiring of a previously backlisted company.
"Thank god, that ultimately, some good sense prevailed and the government postponed the examinations. I am sure, next time, they will be very cautious about selecting the agency for conducting such examinations," Azad said.
He said such an agency, which is blacklisted, should not have been involved in conducting the examinations.
"I wonder why the J&K government, again and again, is choosing defaulter organisations to hold the JKSSB examinations. It is not for the first time that they have hired or booked such agencies to hold the examinations, which is why boys and girls were out on streets, and so was our party. The image of the agency which is conducting such examination, should be clean and beyond doubt," Azad added.