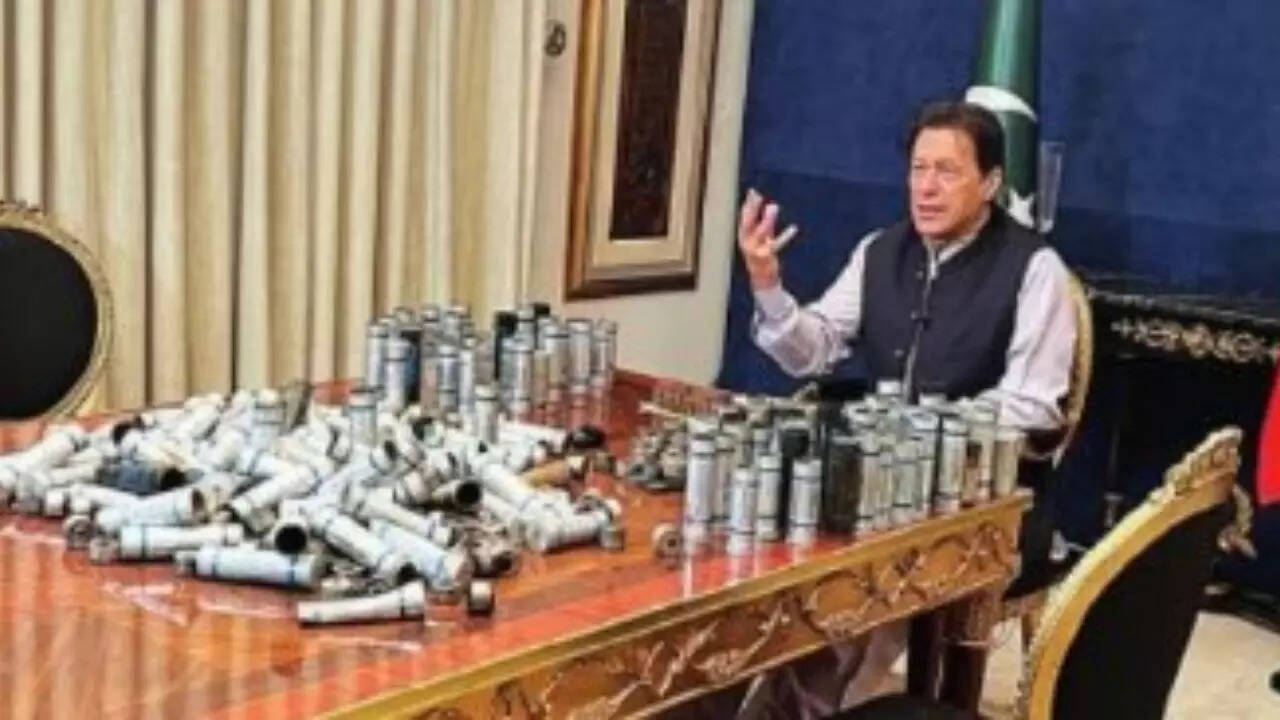 ISLAMABAD: Amid high drama, the Lahore high court on Wednesday directed law enforcers to halt the operation outside Pakistan's former PM Imran Khan's residence till Thursday morning even as the police failed to arrest him after passage of more than 21 hours.
Security forces had already started retreating from around Imran's Zaman Park residence in Lahore before the HC's orders, citing a Pakistan Super League cricket match at Gaddafi Stadium, that was scheduled later on Wednesday, as the reason for calling off the siege. Following the withdrawal, the PTI chief came out of his home and greeted his supporters. In one of the videos, he can be seen wearing a mask while PTI supporters celebrate and chase the law enforcers away. Videos posted by the party on social media showed people hugging each other and raising pro-Imran slogans.
"A moment of joy for the workers who had been fighting for 21 hours to send back the police force from Imran Khan'sresidence for a third time," PTI posted on Twitter with a video of jubilant party supporters.
Shortly after the Lahore HC's orders stopping the police operation at Zaman Park till 10am (local time) on Thursday, the Islamabad high court disposed of a plea seeking the cancellation of the PTI chief's arrest warrants. The Islamabad HC asked him to provide the lower court with an undertaking that he will present himself on a specific date in the Toshakhana case. The case is related to allegations that Imran had sold state gifts while in office and did not reveal it in his annual declaration.
On Wednesday, Islamabad Police, backed by Punjab Police and Pakistan Rangers, resumed their operation — which had started at noon on Tuesday — to arrest the PTI chairman. However, they were met with strong resistance from PTI workers, who threw petrol bombs and stones at them. The law enforcers responded with volleys of tear gas, rubber bullets and water cannons.
In a series of tweets, Imran said after a day of facing tear gas, cannons with chemical water, rubber bullets and live bullets, "we now have Rangers(a paramilitary force) taking over and are now in direct confrontation with the people".
The former premier claimed that the real intent of the authorities behind the entire episode was to "abduct and assassinate" him. "Clearly, the arrest claim was mere drama because the real intent is to abduct & assassinate. From tear gas & water cannons, they have now resorted to live firing," he posted on Twitter. "My question to the establishment (military), to those who claim they are "neutral": Is this your idea of neutrality?" he added.
His party's official account shared a post stating that Imran's house was "under extreme attack". "Open firing by Rangers and Police. Zaman Park is under extreme attack!! Everyone must reach asap!!" the party tweeted. Meanwhile, Punjab's police chief Usman Anwar said that since Tuesday, 54 policemen had been "seriously injured" in clashes with PTI workers. PTI, however, claimed that dozens of their supporters were also injured in police "atrocities" while a number of them were arrested.